Kristen Bell  has been single handedly saving people from Hurricane Irma. She's currently in Orlando to film her upcoming comedy Like Father and ofcourse the whole cast including herself have a hotel to stay at. Earlier in the week she Instagrammed 'stocking up' for the Hurricane.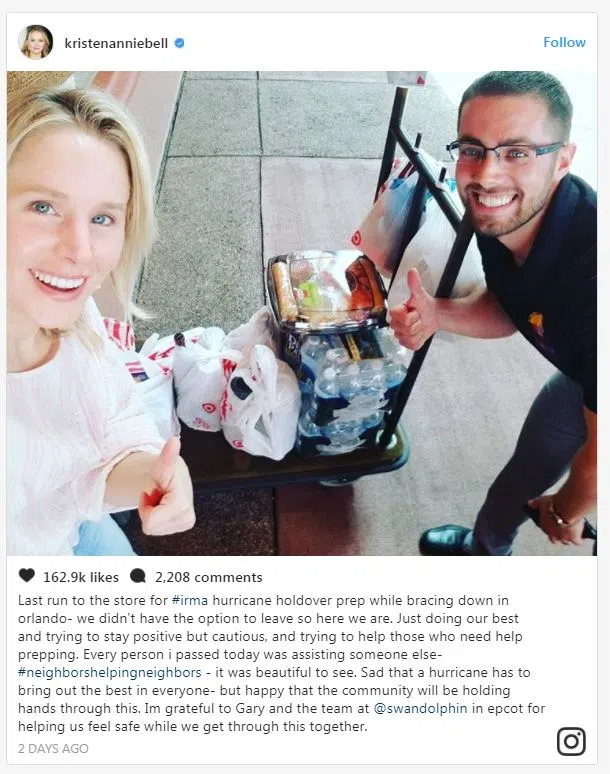 "Last run to the store for #irma hurricane holdover prep while bracing down in orlando- we didn't have the option to leave so here we are. Just doing our best and trying to stay positive but cautious, and trying to help those who need help prepping. Every person i passed today was assisting someone else- #neighborshelpingneighbors – it was beautiful to see. Sad that a hurricane has to bring out the best in everyone- but happy that the community will be holding hands through this. Im grateful to Gary and the team at @swandolphin in epcot for helping us feel safe while we get through this together."
Now that Hurricane Irma has been rolling through the cast have decided to start bunking up with each other, as Kristen has been literally saving people from the storm by finding them rooms in her hotel. Josh Gad who co-starred with Kristen in Frozen as Olaf even Instagrammed that HIS family ws saved from the storm by Kristen Bell.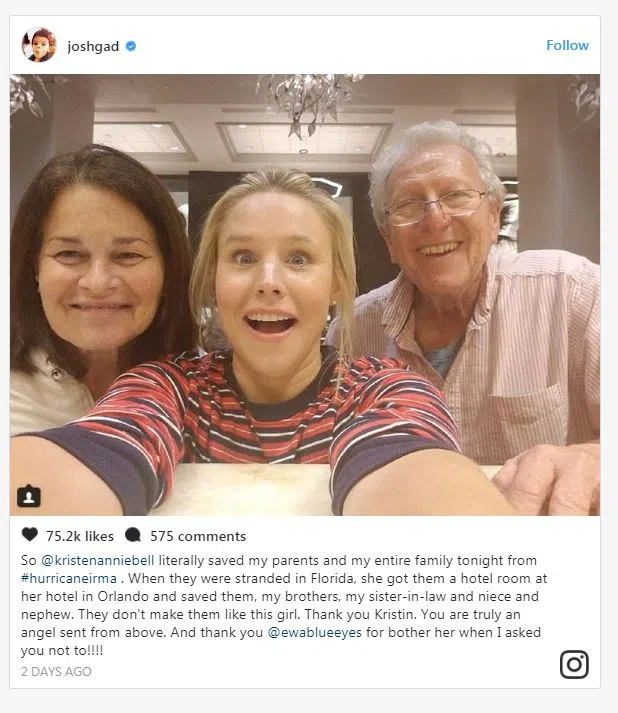 "So @kristenanniebell literally saved my parents and my entire family tonight from #hurricaneirma . When they were stranded in Florida, she got them a hotel room at her hotel in Orlando and saved them, my brothers, my sister-in-law and niece and nephew. They don't make them like this girl. Thank you Kristin. You are truly an angel sent from above. And thank you @ewablueeyes for bother her when I asked you not to!!!"