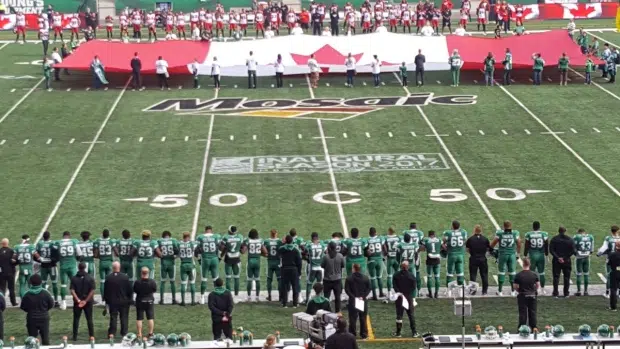 Yesterday the Saskatchewan Roughriders locked arms during their game against the Calgary Stampeders, in a show of solidarity with the approximately 200 NFL players who have been protesting the American anthem in the states.
This comes after President Donald Trump said any player who takes a knee during the anthem should be fired. More than 200 players in the NFL made some sort of silent protest during the anthem this weekend, whether that be locking arms during the anthem or taking a knee.
The Roughriders got involved during the playing of 'O Canada' however they were very clear this was in no way to disrespect the Canadian anthem.
Offensive lineman Derrek Dennis said "We just wanted to show that just because we're north of the border we're not blind to what's going on back home.We all have the opportunity to play in a great country like Canada. We didn't want to disrespect the Canadian flag or the Canadian Armed Forces because this country's done wonders for a lot of us. If it wasn't for the CFL we wouldn't have the opportunity to play professional football."
Dennis went on to say that the team never considered actually taking a knee during the anthem, and a lot of CFL players are American, living stateside 6 months of the year making this much more of a reality.
http://www.cbc.ca/news/canada/saskatchewan/riders-locked-arms-cfl-game-1.4305008